If it's Tuesday it must be Guanzhaishan
| | |
| --- | --- |
| | The Danxia project in China |
As science adviser to a number of Chinese provincial governments preparing a joint (serial) world heritage nomination on China's 'Danxia' landscapes, Chris Wood from Conservation Sciences spent the summer travelling extensively through south China. This is an area famous for its red sandstone landscapes of densely packed bell-shaped mountains, towering columns, narrow canyons and knife-edge ridges. Similar landscapes are known from other parts of the world (for example, Monument Valley in Colorado, the Bungle Bungles in Australia), but in China they have a particularly distinctive geomorphology, named after the type area of Danxiashan, in northern Guangdong Province.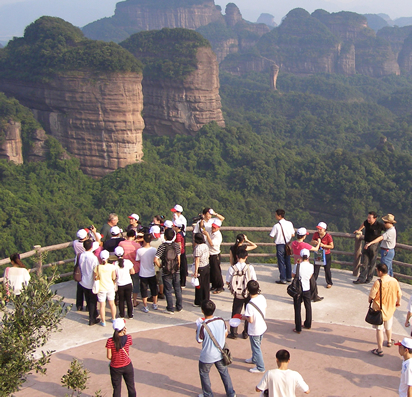 China's Danxia landscapes are all formed in red 'continental' sedimentary rocks (usually sandstones, conglomerates and marls), which have near-horizontal bedding, and have been broken by a very dense network of fractures (faults and master joints). These geological features have controlled the incision of streams and rivers, dissolution of the carbonate cements holding the sediments together, and gravity collapse of precipitous mountain-sides. Especially distinctive and impressive are the deeply eroded and very narrow valleys, sometimes little more than body-sized clefts in the mountain, hundreds of meters deep, the towering red cliffs, and the 'peak forests' of densely packed rounded mountains. In some sites, such as Danxiashan and Chishui (Guizhou Province), the scientific values are further enhanced by primary forest, with high biodiversity values, and in some cases large mammals such as leopards and bears.

Chris has been working on the Danxia project with Chinese scientists and government officials for over one year. Currently nine separate sites in six different provinces (Zhejiang, Jiangxi, Fujian, Guangdong, Hunan and Guizhou) are being considered for inclusion in the serial world heritage site nomination, and during August and September he was able to inspect many of these at first hand. His work has involved scientific debate with Chinese and international geologists and geomorphologists on exactly what makes 'Danxia' so distinctive at the world scale, assessment of the Outstanding Universal Value of individual sites (a requirement of the World Heritage Convention) and advice on conservation values, site integrity and preparation of management plans. Advice has also been provided through site visits, workshops and written reports, as well as leadership of assemblies of Chinese scientists and delegates from all nine sites.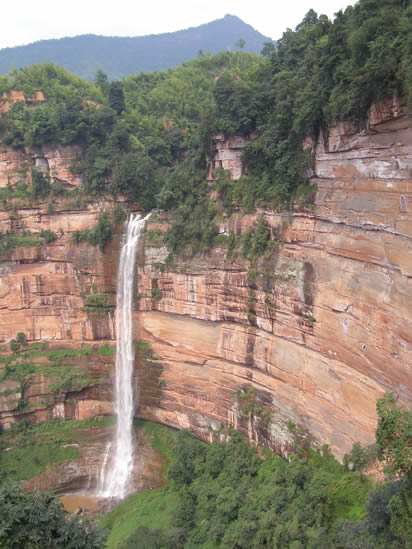 18/09/08