Britain's Landslides – a lifetime's work published
| | | |
| --- | --- | --- |
| | A lifetime's work published | |
A definitive study of Britain's landslides written by Roger Cooper, a former member of Bournemouth University's staff, has just been published by the Joint Nature Conservation Committee. Although he began the research in 1980, Roger never saw it finished because he died in 2001. By then, however, he had visited all of Britain's most important landslides and many more lesser ones. If surveys did not already exist, he surveyed them. From an existing national survey of documented sites which recorded almost 9000 landslides and additional surveys which identified others which were not documented, he produced a short list of just 116 sites. More detailed investigation of these sites led to a final list of 28 which represent the variety of mass-movement types and forms found in Great Britain.
Published as No 33 in the Geological Conservation Review Series and entitled "Mass-Movements of Great Britain", this magnum opus describes different relict and active types of slope- and rock-failure such as debris avalanches, mud flows, rock falls, rock slides, and planar and rotational slides. Some are small-scale and gradual, operating near the land surface, such as 'soil creep'. Others are large-scale, deeper-seated and episodic, sometimes even catastrophic, such as landslides and cliff falls. Some describe dramatic changes to the landscape in short timescales, such as the Bindon Landslide of 1839. At others, such as Folkestone Warren, significant advances in our understanding of landslides occurred.
Such major syntheses of scientific knowledge are rare, especially when designed specifically to ensure a strong scientific basis for conservation of our landscape. Roger's provides one such landmark, not least because locally it provided supporting evidence for the 'Jurassic Coast's World Heritage status.
Publication details
Mass Movements in Great Britain RG Cooper
348 pages, figs, tabs, b/w photos, illus, maps.
Joint Nature Conservation Committee (Geological Conservation Review)
GCR Series No. 33
Distributed by NHBS
Hardcover | 2007 | £45.00
#97570 | ISBN-13: 9781861074812
Coastal Geomorphology of Great Britain

VJ May and JD Hansom
Joint Nature Conservation Committee (Geological Conservation Review)
, GCR Series No. 28
Hardcover | 2003 | £74.00 |
#97571 | ISBN-10: 1861074840
* The Geological Conservation Review (GCR) was established in 1977 to assess and document the most important parts of Britain's unrivalled sequence of rocks, minerals and fossil deposits and landforms that provide a record of a large part of the Earth's long history. More information can be found at www.jncc.gov.uk
The volume was edited to completion by Professors Denys Brunsden and Vincent May after Roger's untimely death. It joins the GCR volume on "Coastal geomorphology of Great Britain" by Vincent May and Jim Hansom, so providing together one of the largest contributions to the earth science conservation of Britain by any single University Department.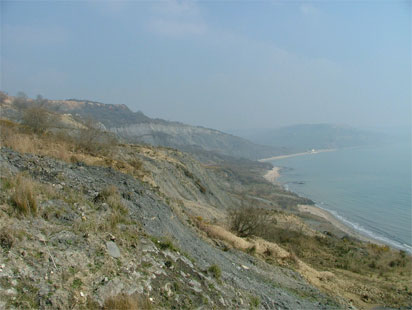 * The landslip at Black Ven picture courtesy of Dr. J. Pile/Story courtesy of Vincent May
03/10/07