Stonehenge student is living the dream
| | |
| --- | --- |
| | Edwin L. J. Pearson |
My Stonehenge experience by Edwin L.J. Pearson
Over Easter 2008, I was given the amazing opportunity to work on the historic excavation of Stonehenge, which was to be undertaken by Professor Timothy Darvill. This was an experience I could have only dreamed of merely two years earlier while filling in my online application for my Field Archaeology degree course at Bournemouth University.

My participation in the project involved responsibilities for a full range of Archaeological techniques, ranging from the study of environmental reconstruction to excavation processes in the trench. Some of this work was done under fairly extreme conditions, such as churning soil samples in the floatation tank in a freezing blizzard!

However, the thought of working on this project, which was aiming to deduce new facts from what is one of the world's most mystifying monuments, somehow erased any sense of physical discomfort endured under these conditions. Fortunately, a good many of the days in the time I spent on the excavation were very sunny and pleasant, as can be seen on the Timewatch documentary.
Most of the excavation team, including myself, would be driven up to Salisbury plain from Bournemouth every day. We would all spend roughly about two hours on the road each day. The morning journey to the site tended to be very silent as most people were still very tired from the previous day's work.
My jobs on this dig were actually very similar to what I had done on previous excavations, such as the one I attended at Wiggold which was also directed by Professor Darvill, where things were also run in a very organised and controlled manner.

At Stonehenge, soil was extracted in spits and, depending on the situation, some soil was dry sieved and some soil was to be analysed for environmental reconstruction using the floatation method. A lot of my time was spent dry sieving, which was in fact what brought me to my 'glorious moment' where I found a beaker sherd which is shown on the Timewatch documentary. Jobs such as data recording and finds sorting were done in and around the research lab. Working on this excavation was generally the same as you would expect with occasional laughs and giggles, but I do remember that my Portuguese colleague (and good friend) Miguel and I were always reminded how much our jobs were of a worldwide importance (!) by the continuous arrival of press and members of the public demanding autographs from Archaeologists such as Phil Harding. It was very hard to maintain a professional standard of work, which meant avoiding interacting with these members of the public, when they would always have such heart-rending reasons with classic phrases like "my daughter thinks he's the bee's knees". Time really was in very short supply on this project.
I can simply say it was a fantastic experience to have spent time excavating alongside Professor Darvill and Geoff Wainwright in the centre of such a world-renowned monument, together with the film crews and journalists from all around the world.
This was most certainly a once-in-a-lifetime opportunity for me and a reminder, not only of the worldwide importance of Bournemouth University's position within the Archaeological field, but of the respect and very trustworthy relationships this university has within the Archaeological research community. This, in turn, opens up access to a wide array of organisations that are available to the students looking for a placement whilst studying at Bournemouth University.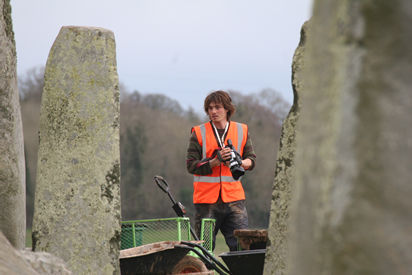 24/11/08