BU Experts Warn of Ignorance over Benefits of Non-native Wildlife
| | |
| --- | --- |
| | Dr Rudy Gozlan pictured at BU |
Researchers from our Centre for Conservation Ecology and Environmental Change are urging caution over assumptions that all non-native species introduced into European habitats result in negative impacts on the economy and environment.
Environmental conservation experts Dr Rudy Gozlan and Professor Adrian Newton share their views in a Letter published in the current issue of Science (The European Union economic downturn: biological invasion to the rescue? - 22/05/09).
They are responding to an article published in Science in April entitled 'Will threat of biological invasions unite the European Union?' which presents new data on the extent of biological invasions across the continent. The article suggests that these invasions pose major regulatory and political challenges to European institutions.
In their Letter, Dr Gozlan and Professor Newton express their support for a more balanced approach to assessing the impact of biological invasions. They believe that emphasising the potential negative impacts of these invasions is counter productive and ignores the potential benefits to humans and the European economy.
"Policy advisers should not ignore risks of biological invasions, but they should examine their potential impacts on a wide range of ecosystem services," the BU academics contend. "Neither should they seek to limit trade by citing the precautionary principle as a surrogate for our scientific ignorance.
"Non-native biological species provide a number of potential benefits to humans particularly in the areas of aquaculture, sport fishing, forestry, horticulture and game hunting," say Dr Gozlan and Professor Newton. "Human needs for food explain 51% of alien fish introductions worldwide.
"In 2006, European aquaculture production was reported to be $8.65 billion, and most invasive aquatic alien species introduced in Europe are currently part of European aquaculture's portfolio," they continue. "The economic value of many exotic species provides a strong incentive to their further introduction, despite the potential ecological risks. Acknowledging this paradox is central to developing a unified approach to biological invasion."
Dr Gozlan and Professor Newton also convey their concern that the authors of the original article in Science fail to acknowledge that some species black-listed in one area may actually be red-listed, or considered as conservation priorities, in another. "Invasion of new territory by such species could constitute assisted species relocation which is a positive outcome in conservation terms," they conclude.
Dr Gozlan, an Associate Professor in Conservation Ecology at BU has acted as an expert advisor to the European Commission on the use of non-native species in aquaculture. He has also advised the UK's Environment Agency as part of the Regional Fisheries Ecology and Recreation Advisory Committee (RFERAC). He is the assistant editor for the Journal of Fish Biology and Aquatic Invasion.
Professor Newton is Vice-Chair of the Global Trees Specialist Group, Species Survival Commission of the International Union for the Conservation of Nature (IUCN). He is also a Technical Advisor to the Global Trees Campaign of the United National Environment Programme (UNEP) World Conservation Monitoring Centre Fauna and Flora International and Botanic Gardens Conservation International (BGCI).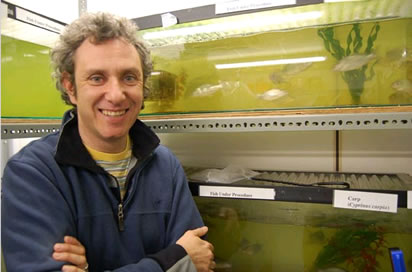 Related links:
26/05/09