The Jack Parsons Prize for Local Studies Research
| | | |
| --- | --- | --- |
| | Helen Parvin wins the 2007 prize | |
The Jack Parsons Prize for Local Studies Research was set up in 2002 in order to recognise the best undergraduate project in some aspect of local studies.
Abstract
Surviving plasterwork at Corfe Castle, Dorset, is at risk from disappearing through the ravages of time and weather exposure. The National Trust is executing a programme of urgent consolidation for unsafe plaster as part of their quinquennial plan (2005) for stonework, mortar and plaster remedial works. This supplementary study provides a detailed survey and map of the Castle's plasterwork as well as providing options for its care. The overarching aim was to investigate all methods of consolidation and protection of historic plasters in exposed ruinous conditions. Further aims were to assess the rarity value, significance and current condition of the plaster at Corfe Castle.
Extensive field survey was carried out at ten ruinous sites (the majority were Norman castles), cataloguing hundreds of photographs, noting condition, defects, scarcity and evidence of consolidation work. Understanding how lime as a building material behaves was gained by visiting conservation sites and researching case studies. Personal experience of consolidating plasterwork was valuable when finding out from conservators and heritage agencies the current strategies employed and their long term effectiveness for plaster protection.
The results at Corfe Castle showed conclusively that delamination, fungal attack and efflorescence from salts mobilisation are the biggest enemies for the plaster. The findings were that the quantity of plasterwork survivals far exceeded expectations and with such a variety of environments there were several possible solutions appropriate to protecting the plasterwork. The general principles of minimal intervention are being slowly replaced by recording and non-intervention or
negligible intervention. A valid and reliable condition survey form was created for future continuous monitoring. Originally these buildings were lime washed and some innovative practice is returning to utilising these sacrificial, reversible methods. A range of plasterwork protection options both traditional and innovative have been proposed for The National Trust to consider.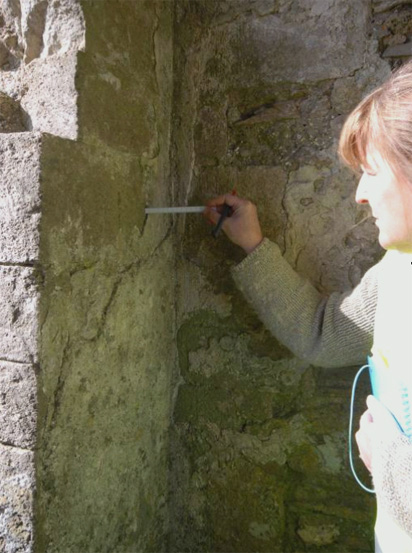 * Above: H Parvin measuring plaster layer depth. Chandler Sept 2006 Top pic: Corfe Castle from Outer Bailey. Chandler Sept 2006
16/10/07