| | |
| --- | --- |
| | Poems written by Bournemouth University Emeritus Professor Seán Street to be performed to music as part of the Scott 100 Festival of Events. |
Poems written by Bournemouth University Emeritus Professor Seán Street inspired by the Polar explorer are being performed to music composed by Cecilia McDowall (pictured with Professor Street above). The Cantata for solo voice and orchestra is part of the Scott 100 Festival of Events on the anniversary of the British Antarctic Expedition which ended in tragedy with the death of Captain Robert Falcon Scott.
The work is entitled Seventy Degrees Below Zero and the title comes from a letter written by Captain Scott to his wife. Using typical understatement, he wrote: "Dear, it is not easy to write because of the cold –70 degrees below zero". Professor Street used Scott's expedition diaries as inspiration for his poems: "Scott's journals are full of quotations from classical and Victorian poetry," he says. "His was a poetic, as well as a scientific journey."
Leading British tenor Robert Murray will perform the Cantata, accompanied by the City of London Sinfonia. The music premiere is part of the Conquering the Antarctic tour, in collaboration with the Scott Polar Research Institute, where Captain Scott's ill-fated expedition will be retold. His scientific expedition to the South Pole ended in disaster after he was beaten to the South Pole by a Norwegian team lead by Roald Amundsen and Captain Scott and four others died on their return journey.
Captain Scott's refusal to deviate from the expedition's aims and intentions may have meant that Amundsen's was the first party to reach the Pole, but Scott's was far from a failed expedition. The story has gone down in British history as a tale of gallantry and endurance. In this centenary year, Conquering the Antarctic aims to bring the reality of the expedition to life, focusing on the words and images that show how, despite ostensible failure, victory can be achieved in posterity thanks to an indomitable spirit.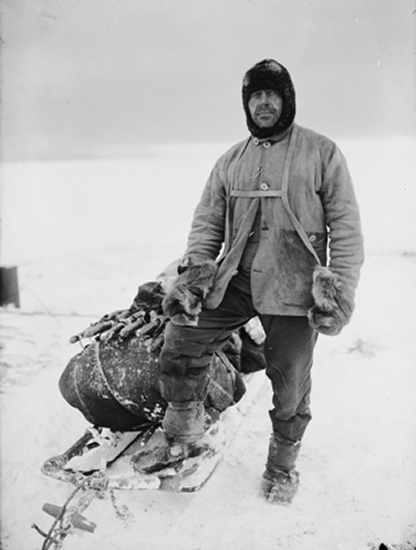 The narrator for the tour will be Hugh Bonneville. Known to millions as Lord Grantham in ITV's Emmy award winning drama, Downton Abbey, Hugh has performed with the National Theatre and the Royal Shakespeare Company as well as starring across film and television. The City of London Sinfonia will also perform excerpts from Vaughan Williams' film score Scott of the Antarctic and his Symphony No. 7 (Sinfonia Antartica). There will also be reading from Scott's diary and letters and projections of the expedition photographs by Herbert Ponting, such as the one of Captain Scott above.
Venues & Box Office details:
3 February 2012 Symphony Hall, Birmingham 0121 780 3333/ www.thsh.co.uk
4 February 2012 Corn Exchange, Cambridge 01223 357851/ www.cornex.co.uk
7 February 2012 St David's Hall, Cardiff 029 2087 8444/ www.stdavidshallcardiff.co.uk
8 February 2012 Town Hall, Cheltenham 0844 576 2210/ www.cheltenhamtownhall.org.uk
3 March 2012 Cadogan Hall, London 020 7730 4500/ www.cadoganhall.com
BBC Radio 3 will be recording 'Seventy Degrees Below Zero' at the London performance on 3 March, to transmit it the following day as part of the 'Music Nation' weekend.
Tickets are available to purchase through the box offices of the individual venues.
More information on the tour can be found on the City of London Sinfonia website.
For more details or interview requests with Professor Street, please contact:
James Donald,
Press and PR Manager
Bournemouth University
01202 961032
07725 214274
jdonald@bournemouth.ac.uk