Archaeologists return from fieldwork at Tanzanian World Heritage Site
| | |
| --- | --- |
| | Dr Kate Welham collecting data at the Tanzanian World Heritage Site |
Dr Kate Welham and Harry Manley from the Centre for Archaeology, Anthropology and Heritage have just returned from fieldwork in Tanzania. Kate and Harry were invited to join an international team of researchers working at the UNESCO World Heritage Site of Songo Mnara on the Tanzanian coast. This international research project directed by Dr Stephanie Wynne Jones (Bristol University) and Dr Jeff Fleisher (Rice University), is studying the remarkably well preserved 15th /16th century Swahili trading port of Songo Mnara,
The Bournemouth University archaeologists were invited because of their expertise in geophysical survey. Kate and Harry surveyed over 22,000 sq. metres using equipment which detects evidence of human activity up to 0.5m below the ground surface. "The survey went better than we could ever have hoped for" said Dr Welham, "it allowed us to explore new areas and find previously unknown occupation outside the main ruins of coral buildings"
Songo Mnara is the third UNESCO World Heritage Site Dr Welham has worked at this year following her fieldwork on Easter Island and at Stonehenge, where she is Co-Director of the Stonehenge Riverside Project.
Earlier this year Harry Manley surveyed extensively in Lake Turkana National Park, another World Heritage Site, as part of Professor Matthew Bennett's ongoing research into early hominin footprints.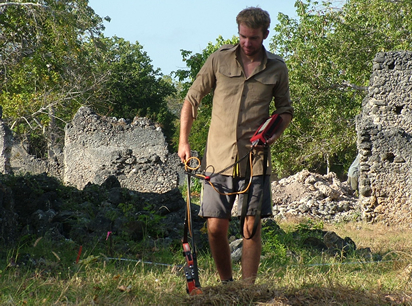 Related Links:
24/08/09